Franchisee Case Study: Wetherill Park
Estimated reading time: 7 Min Read
HOW DID YOU FIRST HEAR ABOUT PINOT & PICASSO?
A couple of years ago, I was working for a pretty awesome guy (now a fellow franchisee) tutoring his children. In May 2019, he told me about this business he was opening and offered me a job.
That business happened to be Pinot & Picasso Rouse Hill, and I JUMPED at the opportunity because I loved art, and it just sounded so fun. For the next couple of months, I got to learn what the business was all about and along the way, I got to see first-hand what it took to open one of these studios. In June 2019, I worked as the artist for his grand opening night!
WHAT CONVINCED YOU TO JOIN PINOT & PICASSO AS A FRANCHISEE?
Fast forward 2 years, having worked for Hany as both an artist and a manager for the Hills studios,I became interested in investment and business. I spoke with Hany and his wife about this, and they simply asked the question, "Have you ever considered opening your own studios?" I kind of laughed it off at first as I never thought that kind of investment at 21 years of age would be in my reach.
After doing my research and deciding that I wanted to take the leap, I went for it and signed for Pinot & Picasso Wetherill Park in September 2020. Going into a franchise that I had prior experience with made sense because as a uni student, I was also concerned about taking on the additional commitment. In the end, I knew that managing these studios is a flexible model which can work around any lifestyle.
WHAT'S IT BEEN LIKE WORKING FOR P&P AS BOTH AN ARTIST AND FRANCHISE OWNER?
I thoroughly enjoyed my time as an artist when I was working for Hany. Working is always a blast when you get to do something you enjoy. I did it all - from pop-up functions to marketing events to local business evenings. I wanted to use my experience to mould my staff to the standard I knew worked at previous studios and be as personally involved with my business as possible.
Due to the size of my studio, we often require two staff members. Nine times out of ten, it is me and one of my other girls. At first, the plan was to work there myself for the first few months and be a backup, but I genuinely enjoy it so much that I don't think I will ever be able to take a step back!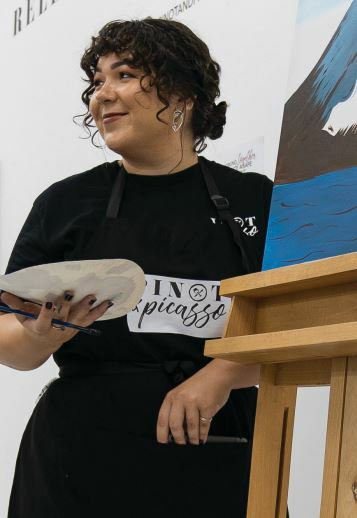 WHAT WAS THE PROCESS LIKE BECOMING A P&P FRANCHISEE?
After speaking with Hany, he arranged for me to talk to Aaron and James about what the process entails and the financial commitment. After getting all the information, we talked about the location. The Wetherill Park area was perfect for me as it was close enough to home. The territory that came with it had so much potential too. I took some time to explore and think it over, but once the decision was made and the deposit paid, I was on the hunt for a studio!
This was definitely the most challenging part of my experience, as, at the time, there was not a lot of real estate on the market available. Whilst I was on the hunt, Head Office ensured I was equipped for when the time came. I received my training and began sourcing my staff. My previous experience with the company allowed me to start trading straight away doing pop up functions. This really supported my start as I could get my name out there by going into peoples homes and local businesses. Over that Christmas period, I ran 22 sessions with the help of my parents and partner.
But as they all say, good things come to those who wait! In December, I signed the lease for my dream studio space. Two months of designing and fitting out the studio, and bam! I had my grand opening on February 12th of this year with my first public session on Valentine's Day!
WHAT IS A TYPICAL DAY FOR YOU AS A FRANCHISEE?
Every day is different, but a typical day as a Franchisee would involve answering any email enquiries that have come through overnight first thing, followed by heading over to the studio to clean and set up for the weekend to come. Each week, I like to make my way around the area and do some networking. Whether that be grabbing a coffee and some lunch from our local cafe or visiting other business owners at potential pop up locations - it is important to be visually present and put back what you hope to receive into that community!
WHAT HAVE BEEN YOUR BIGGEST CHALLENGES AS A FRANCHISE OWNER?
Being a business owner in my early twenties has malso come with its challenges. There was so much to learn in terms of understanding the ins and outs of business ownership. Beyond that, I feared that I would potentially not be taken seriously when it came to negotiating with landlords, approaching fellow business owners and such. I quickly learned that I had nothing to worry about! Coming through as a franchisee of a massive brand like Pinot and Picasso, there is no way people can't take you seriously. If anything, I was commended for pursuing this side hustle at my age!
This also may come as no surprise, but navigating the current pandemic has also been perhaps the biggest challenge so far. Going into this business last year, I knew that I was signing up with risk as COVID was not over. Still, I could not have predicted that after only 4 months of trading we would be closed until future notice. I had the experience of managing the Hills studios in 2020 during the lockdown, so I was prepared to handle the customer service side of things.
Perhaps the biggest challenge now is having a positive mindset. Considering how busy we were pre-lockdown, there are only good times to look forward to after getting through this!
HOW HAS THE COMMUNITY BEEN LIKE TOWARDS YOUR COMMUNITY?
I have met so many local business owners who were so excited to see something new pop up. Particularly a business that was providing the community with a fun night out! There was nothing like us before our opening, so we were welcomed with open arms! We actually ran a local business evening during our grand opening weekend, and all of the guests were so kind and helped us spread the word to their following. Many of our guests who were the first to book in were pumped that there was now a place they could go to get creative and have a few drinks with friends. As time has passed, we are now confirming more local business partnerships that are keen to work with us!
WHAT'S BEEN YOUR FAVOURITE THINK ABOUT PINOT & PICASSO?
I adore meeting new people which has honestly been the highlight of both my time working as an artist and as a franchisee. As an artist, you get the opportunity to talk to people, ask what brought them into the session, and be a part of their celebration. I have seen many birthdays, hen's nights, team building events and Christmas parties walk through P&P doors. They always leave raving about how incredible the experience was, particularly those who were sceptical people at first!
HAS BECOMING A FRANCHISEE CHANGED YOUR LIFE? IF SO, HOW?
Becoming a Franchisee has changed my life in more ways than I could have imagined. Not only do I feel more financially independent and secure than I ever have before (or as early in my life as I could have imagined), I do feel as though I have grown as a person. I learned how to be confident and determined when making difficult decisions, and I quickly learned how passionate you become when you own something. I have never been as proud of myself as I was on my Grand Opening night.
WHAT ADVICE WOULD GIVE TO SOMEONE THINKING OF BUYING A PINOT & PICASSO FRANCHISE?
Just like going into any business opportunity, you really want to make sure you are as informed as possible about everything to do with the brand, the owners and the overall culture of the company. For P&P, I would highly suggest that you visit a studio and have a go at a session if you haven't already. Speak to a number of our franchise owners about their experience and ask why they chose to jump on board. Everyone has a different experience, but many of them will tell you that it all stemmed from attending a session, which honestly just goes to show how memorable the experience is. The franchisee community is willing to help!
If you are looking into purchasing a territory that may not be local to you, try and become as informed as possible regarding the culture and vibe of the local community. Find local vendors that you trust! Finally, my most significant piece of advice would honestly be to wait for the perfect studio site to come along. Don't settle for something that isn't ideal for you or your customers' experience in the hopes of opening earlier.