Franchisee Case Study: Redcliffe
HOW DID YOU FIRST HEAR ABOUT PINOT & PICASSO?
KATRINA: After spending Saturday afternoon looking up franchise opportunities on random websites, Pinot & Picasso popped up as an ad on my Facebook feed later that night - they are always listening! I was immediately interested - not because I can paint but because it sounded like a fun & profitable business!
WHAT CONVINCED YOU TO JOIN PINOT & PICASSO AS A FRANCHISEE?
KATRINA: After doing all of the Facebook stalking I could on Pinot & Picasso on a Sunday, I told Debbie about it on Monday at work. We decided then and there that it was the business for us and made contact with HQ that day. The biggest convincer for me was that the franchise information said we could have a studio up & running in six weeks... so, that's what we did!
DEBBIE: I was convinced to join Pinot & Picasso as it was told to me that it's a 'lifestyle' business, and that appealed to me.
YOU HAD YOUR FIRST STUDIO UP & RUNNING IN SIX WEEKS! WHAT WAS THIS PROCESS LIKE BECOMING A PINOT & PICASSO FRANCHISEE?
KATRINA: It was a whirlwind and a blur, fuelled by coffee and wine! HQ met our pace and everything was pretty straightforward - they assisted when we needed help, and answered every question we had. We were given comprehensive guides for each step we needed to take in order to open in our desired timeframe. Everything fell into place quite easily. That being said, to save money, we did most of the shop-fit ourselves which was hard work! We completed a huge fit-out, flew to Sydney for a weekend of training at HQ, and hired & trained our staff in six weeks. At the time it was challenging, but looking back it was the most exciting and wonderful time watching it all come together with my bestie - we don't like to do things slowly!
DEBBIE: The process was exciting. The training was empowering and encouraging - that propelled us to work hard to get it up & running. It was a whirlwind - a lot of planning and trips to Bunnings! It was busy, hot work as we did a lot of the physical work ourselves, and that has brought us alot of satisfaction looking back. All that combined with learning a new business made for a busy time, and having someone to share the workload was invaluable!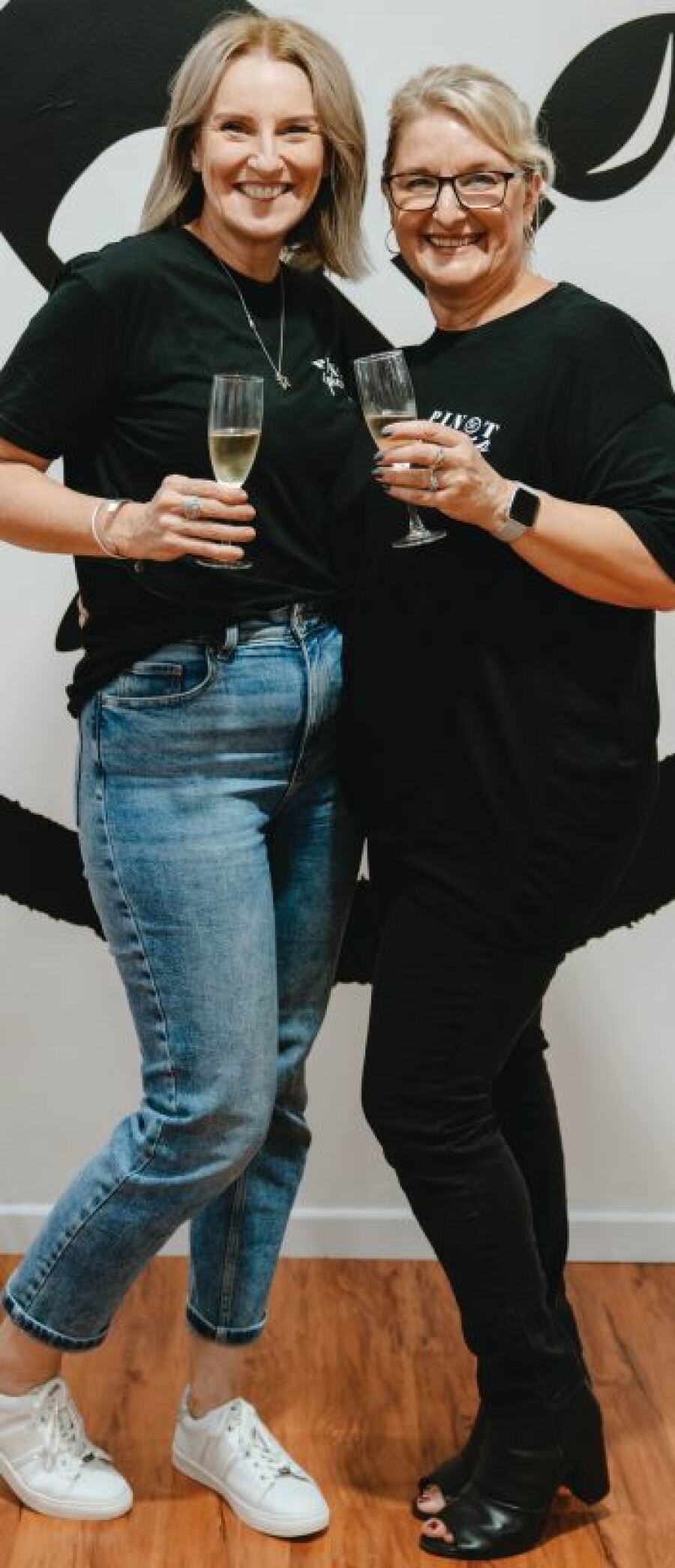 WHAT HAS THE COMMUNITY BEEN LIKE TOWARDS YOUR STUDIO?
KATRINA: One of the best things about having our studio where it is, is the friendly people and businesses around them. We are amazed how far guests travel to visit our oceanview studio in Redcliffe after someone tells them about us! The view is unbeatable! We always make sure to be wearing our Pinot & Picasso shirts while out & about, and people stop us to ask about our studio no matter where we are. We have sponsored, supported and donated to every local community group that has reached out to us, and this has created amazing connections with locals.
DEBBIE: We have had great support from the community. The location of our Redcliffe studio has helped - who doesn't love looking at the ocean? We have been contacted by many local businesses to organise pop-ups and we love being out meeting local businesses too.
WHAT IS A TYPICAL DAY FOR YOU AS FRANCHISEES?
KATRINA: First things first - Pilates followed by coffee! Then, it's all business (and fun!) until 3pm - answering emails, planning session calendars, Zoom meetings, social media, pop-up venue inspections, staff meetings, long lunches - every day is different! It is generally prosecco time by 4pm! We visit each studio at least once a week - we trust our staff implicitly. Our great team of hosts and artists let us know when something needs attention. We can work as little or as much as we like on any given day, and we always try to have at least three days a week work-free.
DEBBIE: A typical day for us starts with Pilates and coffee! We then put our Franchisee hats on and get on the laptop to answer emails, cover social media, and staff rosters. We try to visit the studios only once a week to check stock, unpack stock, check cleaning, etc. Our staff really look after the studios, so we are very lucky.
YOU NOW HAVE TWO STUDIOS, WHAT WAS THAT DECISION LIKE FOR BOTH OF YOU? ANY PLANS FOR MORE?
KATRINA: Absolutely! We said from our very first phone call with HQ that we wanted three studios. We signed on for our second as soon as the dust settled on our first studio, and did it all again! It was a no-brainer and the decision was made together very quickly. It was so much easier the second time as we knew exactly what to do and who to call. We're still waiting for the dust to settle on studio number two, but number three may not be too far away!
DEBBIE: Once we had completed Redcliffe, we wanted a new challenge. It was always our aim to own two or three studios, so watch this space!
WHAT HAVE BEEN YOUR BIGGEST CHALLENGES AS FRANCHISE OWNERS?
KATRINA: Paperwork and number crunching! Not having structured or set workdays have been a bit challenging for me, but I am making progress!
DEBBIE: The biggest challenge as a Franchise Owner for me is keeping up with the behind the scenes bookwork. The studio work is easy and a lot of fun, so it is easy to do. Whether it is adding sessions or sending our rosters, setting up for an event or even going into the studios to clean - I enjoy that! I don't get excited by reconciling receipts, so that is a challenge for me.
HAS BECOMING A FRANCHISEE CHANGED YOUR LIFE, IF SO HOW?
KATRINA: All for the better! Owning our own Pinot & Picasso studios has made life much more relaxed, enjoyable and flexible for myself and my family. I have something to be proud of, and I am challenged every day in a positive way. Also, the opportunity to get to know an amazing group of fellow Franchisees with the same goal - to make their studio's the best they can be. All while having an amazing work and life balance!
DEBBIE: This franchise has given me a better work and life balance - I don't feel like I am working. I have flexibility in my day and I spend my work life with my best friend, so I am very lucky.
WHAT HAS BEEN YOUR FAVOURITE THING ABOUT PINOT & PICASSO?
KATRINA: So many things, but first and foremost is the support received from HQ which makes this statement ring true - "you are in business for yourself, but not by yourself". Having started my own business before, I struggled with the burden of it all being on my shoulders. Being a Franchisee and knowing I have a whole group of talented people to help with every facet of our business brings an incredible sense of calm and confidence - personally and professionally. All that and getting to work with my best friend every day are just a few of my favourite things. I could go on and on! It's the best thing I have ever done!
DEBBIE: My favourite thing about Pinot & Picasso is that it is a lifestyle business when I know have the best work-life balance where my life is more than my work. Head Office is a great group of people to work with.
WHAT ADVICE WOULD YOU GIVE TO SOMEONE THINKING OF BUYING A PINOT & PICASSO FRANCHISE?
KATRINA: JUST DO IT! Feel the fear and do it anyway! You won't regret it - it's the perfect balance between work and play. I would suggest diving in with a friend so you can share the adventure, the work & fun, the decisions, and make memories together. It has been an amazing ride so far and I am so glad I am part of the family that is Pinot & Picasso!
DEBBIE: I highly recommend this business if you want a fun, happy business to work in that gives your freedom in your everyday life. I strongly recommend having someone to do it with as not only does it share the workload, but you get to enjoy it more when you have someone to share the fun times with too!