Franchisee Case Study: Orange
WHAT CONVINCED YOU TO JOIN PINOT & PICASSO AS A FRANCHISEE?
We have always been looking to start a business or invest our money in something for our future. Pinot & Picasso had some appeal because of the market access it provided as a first-time investment compared to other franchise brands. The set up looked affordable and straightforward, we also had some mutual friends who already invested in the brand. They highly recommended the business model during our initial decision stages.
WHAT WAS THE PROCESS LIKE BECOMING A P&P FRANCHISEE?
The process was exceptionally smooth and straightforward. Whilst having business experience meant we needed less help getting our business off the ground and running, the Pinot HQ team were always ready and able to help when we needed their industry knowledge and expertise.
SINCE BECOMING A FRANCHISE OWNER, WHAT BENEFITS HAVE YOU SEEN IN LIFE AND BUSINESS?
We have seen an increase in our work-life balance for the better. We have more time to do the things we love. Besides this, going to work for Pinot does not really feel like work when staff and customers all want to be there. After a few months of hard work setting up and pounding the pavement, the benefits have really paid off and the ability to now work from home is fantastic. We can see the opportunity to expand and pivot our entire lifestyle towards solely running Pinot & Picasso.
WHAT HAS IT BEEN LIKE OPERATING A STUDIO FROM A DISTANCE?
Challenging and rewarding all at the same time. The biggest challenge has been injecting ourselves into the local community and being accepted. This also meant long drives, time away from home, and way from loved ones. However, we have met some amazing people on this journey and made some good friends throughout our adopted community. On top of this, we have a sound understanding of our region and can quite confidently call it a second home.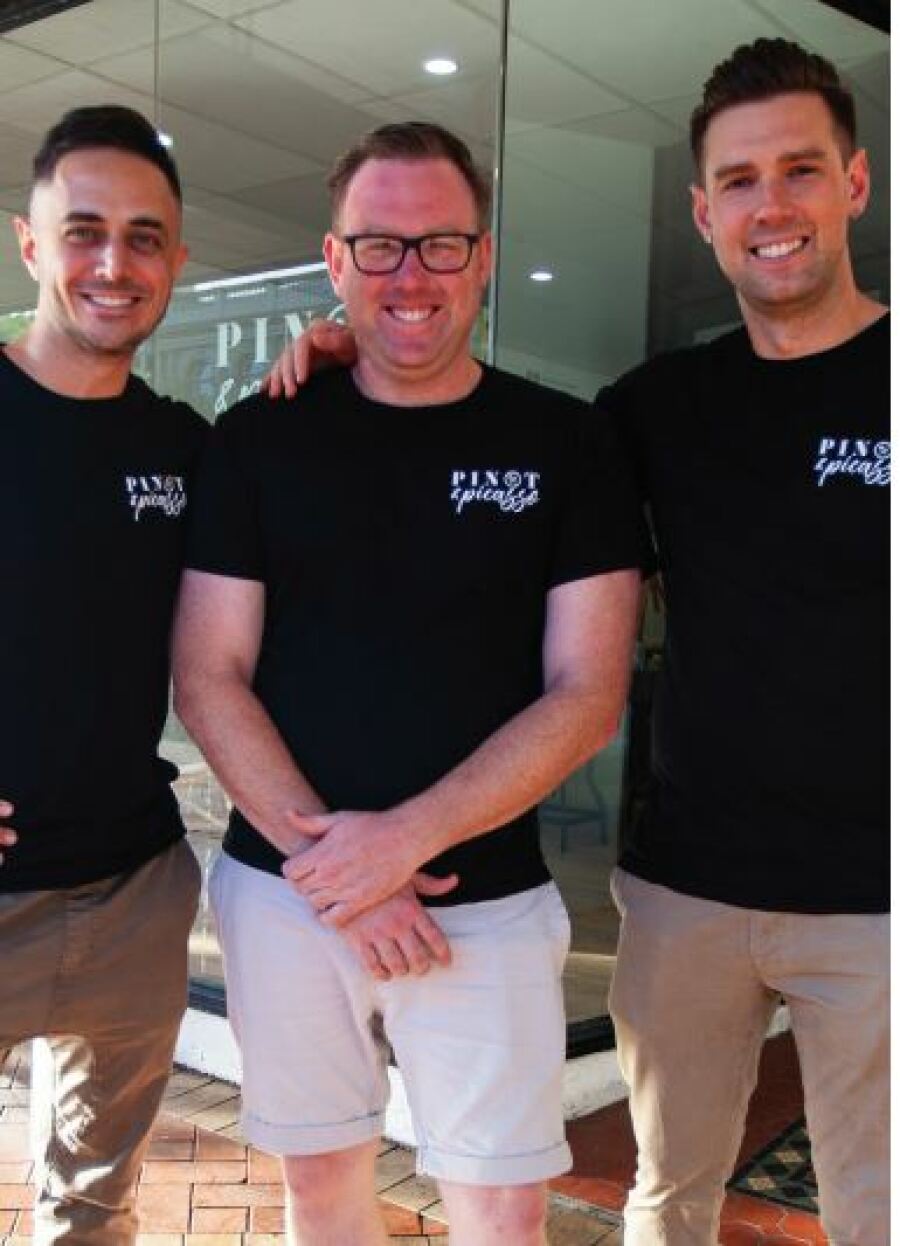 WHAT IS A TYPICAL DAY FOR YOU AS A FRANCHISEE?
A typical day varies! The work is so varied and manageable in many different ways. Some days consist of meetings, planning and operations, where others involve travel, supporting our adopted community, engaging with customers, visiting wineries for partnerships and enjoying ourselves.
WHAT ARE THE BIGGEST CHALLENGES HAVE YOU FACED?
Starting the business in a country community was challenging but rewarding in many ways. Travelling, finding a place to live and becoming a part of our adopted community presented us with a few hurdles that we overcame with local outreach, partnerships and being seen in the community.
DID YOU HAVE TO GIVE UP YOUR OTHER JOBS TO MANAGE THIS BUSINESS?
Not at all. We manage our time around our other commitments with our local studio manager. As we expand into more locations, we may change our minds with the whole job thing!
WHAT HAS BEEN YOUR FAVOURITE THING ABOUT PINOT & PICASSO?
Having fun! Pinot & Picasso is hands down the most enjoyable business we have been a part of. Not only do we enjoy ourselves, but we also sell a great service that is second to none. The bottom line is our customers have fun too! It really is a lifestyle that Pinot & Picasso sells to their franchisees.
WHAT ADVICE WOULD YOU GIVE TO SOMEONE THINKING OF BUYING A PINOT & PICASSO FRANCHISE?
What you put into your business is what you'll get out of it. If you put in the hard work, you'll reap the rewards with time! When you join Pinot & Picasso, you're joining a family!
IF THERE WAS ONE REASON TO JOIN P&P, WHAT WOULD IT BE?
A new lifestyle!