Dickey's Barbecue Pit Overview
Join the #1 Barbecue Franchise in the World
Nobody knows barbecue like Dickey's. With 80 years of proven success, 25 years of helping franchisees reach their goal, and over 500 locations, Dickey's knows its way around the barbecue business.
Dickey's is a process, but not processed. Smoking meat is projected to grow globally through 2026 and the tail wind this brand has is 80 years in the 'smoking'. "This Master or Regional Franchise opportunity is flexible to the needs of the targeted country and seeks partners that will teach us about the country, the culture and the consumer. In return we will pridefully teach your team barbecue, Dickey's style!" said James Perkins, Vice President of International Development of Dickey's Barbecue Restaurants, Inc.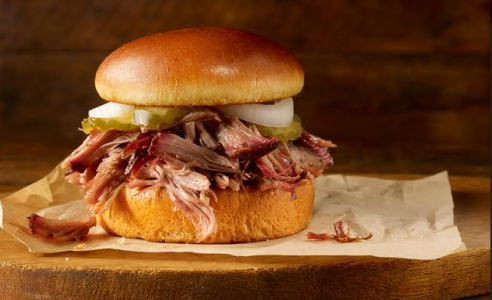 Most Recent Awards:
The Top Food Franchises of 2020 (Entrepreneur)
Top Franchises for Veterans, 2020 (Entrepreneur)
Top 100 Movers and Shakers, 2020 (Fast Casual)
Top 200 Franchises, 2020 (Franchise Times)
Top 200 Restaurants List, 2020 (Nation's Restaurant News)
THE DICKEY'S BARBECUE PIT DIFFERENCE
Dickey's prides itself on serving our guests authentic, Texas-style barbecue. All locations offer a welcoming atmosphere where guests feel like they are dining with friends and family. The kitchen is an open concept where guests can see and smell the meat being smoked and the sides being prepared.
With Innovative IT solutions and streamlined processes, Dickey's offers capabilities for up to 6 revenue streams such as online ordering, contactless- delivery, dine-in, catering, 3rd party partnerships, and Holiday Meals.
Menu Overview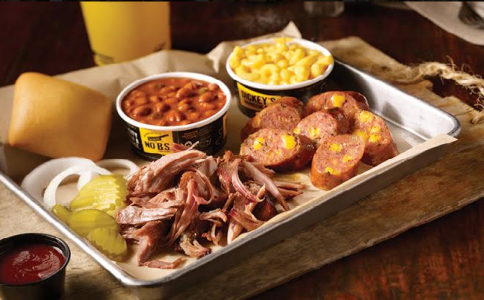 Of the attributes that make Dickey's a standout franchise, their food is the focus of their success. Dickey's slow-smokes all meats on site and serves up the same quality barbecue recipes handed down for generations the same way they did in 1941.
Dickey's offers endless ways to enjoy mouthwatering hickory-smoked barbecue.
The menu includes
slow-smoked signature brisket, tender pulled pork, fall-off-the bones ribs, original Polish kielbasa, marinated chicken
served on a plate, in a sandwich, a giant baked potato, in family packs or in our signature Big Yellow Box. All meats can be paired with traditional sides like barbecue beans, mac and cheese, creamy spinach, crispy slaw, fries, and a warm soft roll.
DICKEY'S KEY BENEFITS:
Dickey's is a WELL-LOVED established brand with 80 years of proven success.
Dickey's has several REVENUE streams from dine-in, catering, retail items, holiday meals, online ordering to delivery.
TRAINING. Dickey's Barbecue University provides access to remote learning across the globe 24 hours a day, with the content updated daily to reflect our ever-changing business as well as classroom style and hands-on training at one of our corporate stores in the greater Dallas, Texas area.
Dickey's different BUSINESS MODELS easily adapt to any real estate needs.
Dickey's offers a FLEXIBLE MENU that can be adapted to local needs and local cultures.
Dickey's menu relies on LIMITED INGREDIENTS while still offering vast options while keeping cost low and operations simple.
Dickey's is a stable business with increasing sales, new locations, and revenue during the COVID19 pandemic.
DICKEY'S BUSINESS MODELS:
Brick & Mortar Model
Description: Our traditional model with a dining area for guests to enjoy their food in our restaurant.
Space: 1,500 – 2,000 SF
Average Build Out Cost: US$272,000 to US$345,000
Non-Traditional Model
Description: This model fits into airports, food courts, subway stations and non-traditional locations. Order is placed in a counter and served to-go. It also has a grab and go station for guests that are on the go.
Space: 500 – 800 SF
Average Build Out Cost: US$135,00 to US$172,000
Delco Model
Description: A responsible, modern day approach to meet the global needs of COVID with a smaller footprint designed for delivery and carryout orders mainly. Depending on space, it may have a smaller seating or waiting area.
Space: 500 – 800 SF
Average Build Out Cost: US$90,000 to US $132,000
Ghost Kitchen
Description: Work from a rented space out of ghost kitchen facility. This model offers less capex investment, less labor and continued growth is expected post-Covid19.
Space: 85 – 200 SF
No Build Out Cost Required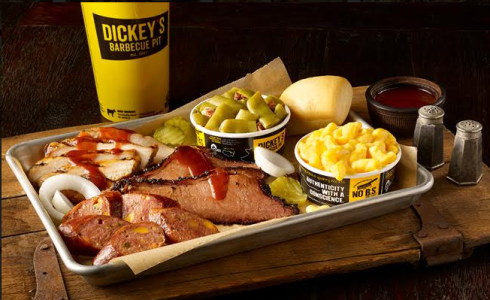 Dickey's Support System
Dickey's has an experienced and supportive team to provide you guidance, feedback, business insights, solutions, support to ensure a successful opening and day to day operations.
Operations and Development: Support with franchisee agreement, contract negotiation, site selection, expansion opportunities, strategic operational guidance, and support.
Supply Chain: Support with products and kitchen equipment exportation and registration, product sourcing, cost and negotiation guidance.
Field Operations: Support with store opening and daily operations, operational excellence, menu development, products approval, and communication.
Training: Support with brand culture, service steps and standards, team members roles and responsibilities, consistency, and operational excellence.
Culinary: Support with menu alignment, product quality and execution standards and consistency, recipes, cooking techniques and procedures.
Marketing: Support with strategic direction on the communication plan, creative assets, menu development, pricing strategy, and day-to-day marketing.
Why Dickey's?
Operating a restaurant requires a lot of work. Dickey's years of experience and successful business models make it easy and numbers prove it:
Capital Build Out Costs are less than other concepts of the same size.
Sales are 2.4x higher than the capital build out costs.
Average ROI is approximate 14%.
25 years of experience collaborating with US Franchisee.
Learn more about bringing Dickey's to your country and get in touch with the team today
Request information below now to get in touch with our Dickey's International franchising team.
Dickey's Barbecue Pit Financial Data
The following financial information was provided by Dickey's Barbecue Pit to give you more information about the costs associated with a Dickey's Barbecue Pit opportunity
Minimum Cash Required
€300,000
Net Worth Required
€420,000
Total Investment Range
€147,000 - €315,000
International Franchise Fee
€25,000
Dickey's Barbecue Pit News
Dickey's Barbecue Pit Videos
March 24, 2021 03:18 PM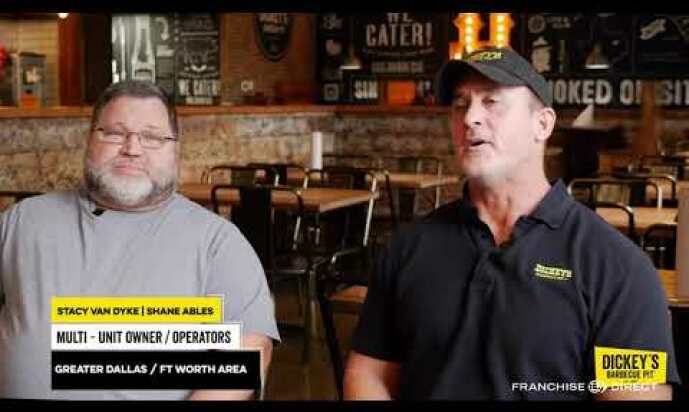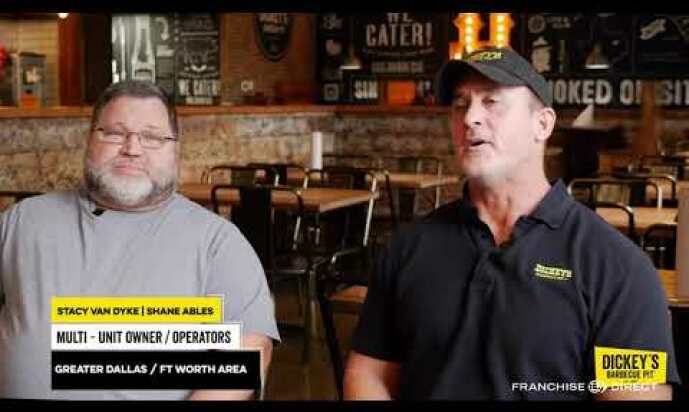 Dickeys Barbecue Pit Franchise Review: Shane Ables
Multi-store owner Shane Ables discusses his journey with the Dickey's Barbecue Pit franchise and his keys to success since joining the Dickey's Barbecue franchise family in 2013.
March 24, 2021 03:17 PM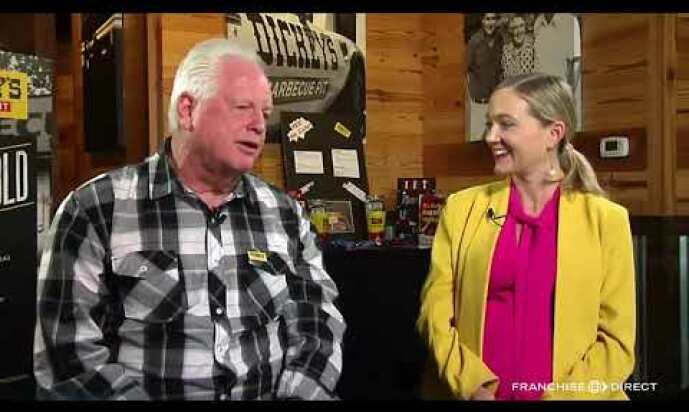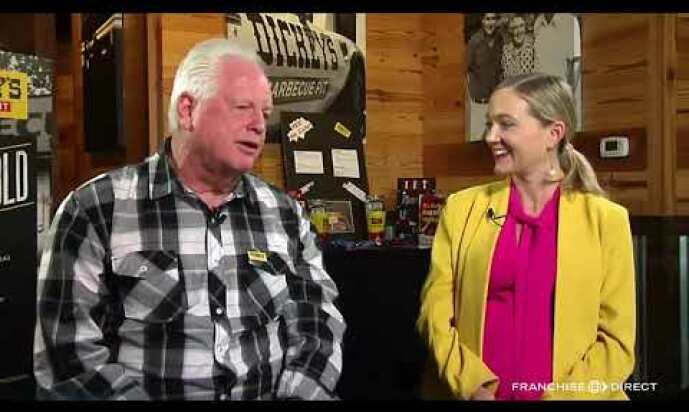 Dickeys Barbecue Franchise Review
An actual Dickey's Barbecue Pit Franchise owner-operator, James Halstead, provides an honest review about the Dickey's BBQ Franchise. Halstead owns and operates Dickey's Barbecue Franchise locations in Fresno and Clovis, California.