TaxAssist directors share future plans at first virtual regional meetings
With COVID-19 preventing face-to-face regional meetings this year, TaxAssist Accountants took the opportunity to move these important annual events online, to great success with all franchisees attending the one specific to their region.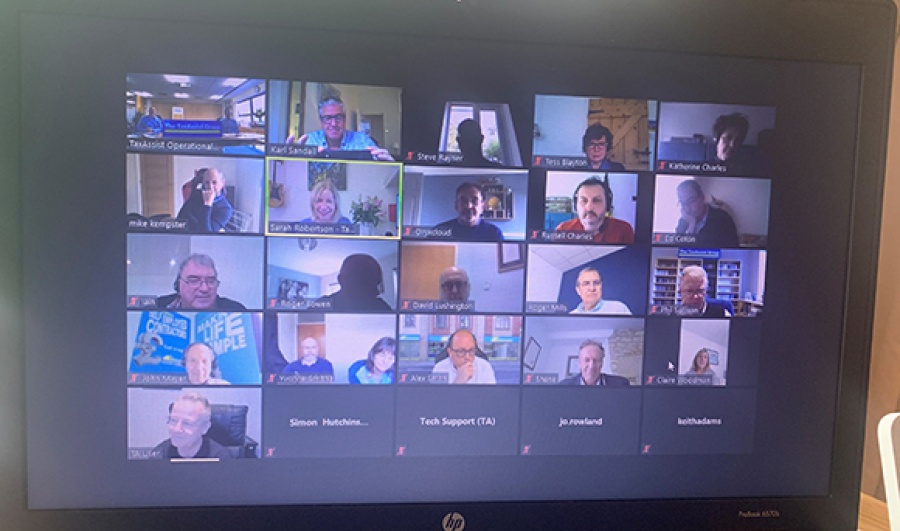 The events offer a chance to provide a network update, detail new initiatives, discuss future plans and opportunities and receive feedback, to ensure that every franchisee feels engaged, informed and supported, so that they can take full advantage of all of the help and services on offer to them through the Support Centre.
Group Operations Director, Sarah Robertson – who was joined by Group Commercial Director, Daren Moore and Group Business Development Director, James Mattam – explained: "The regional meetings proved more important than ever this year, providing a much-needed forum to come together to reflect on 2020 and discuss future plans."
With a focus on moving business forward, the following topics were covered during the meetings:
Sector update – Changes we've seen through the pandemic, how valued TaxAssist's services have been to clients and going forward, clients will need help with funding and support with business decisions.
Growth opportunities – We are seeing more start-ups, more clients looking to switch accountant due to lack of support and service, more businesses now looking to appoint a professional as business is becoming ever more complicated and the chance to purchase blocks of fees from retiring accountants.
Digitalisation – The continuing move to full digitalisation and automation further fuelled by ongoing software/technology changes and the next phase of Making Tax Digital and the opportunities these present to the network.
COVID-19 support – There will be further COVID-19 recovery related announcements and changes, and TaxAssist Accountants are well placed to support its network with increased demand of more services from clients.
Service opportunities – How to utilise data to maximum advantage, available tools to support additional services, including future masterclasses, webinars and training.
In-House teams – Development of existing insourcing teams – payroll and tax – and the roll out of new services including Inheritance Tax, Capital Gains Tax and personal tax.
New websites and brand positioning – New designs and features enabling each franchisee to communicate with prospective clients & existing clients about the extended range of tax services, advisory and digital offerings available. A brand positioning exercise across all sites has been implemented to broaden our reach to more established businesses who are looking to switch to TaxAssist Accountants.
Driving up growth – Local advertising being adapted to those potential clients now working from home, training and support converting clients over video meetings, cross-selling more services which clients had stated they wished to learn more about from our client satisfaction survey and generating more referrals on the back of our enhanced reputation during lockdown and beyond with our full support to clients.
Sarah added: "The meetings all proved to be tremendously useful, as myself and my fellow directors were not only able to present our key messages to the network, but garner the mood around the UK, how franchisees are performing and what more they want from us. We've been encouraged by positive feedback that franchisees feel well supported, are busy, open for business and ready to expand their practices.
"With the combination of our prominent online brand positioning and high street visibility, we know that as the economy recovers from the events of 2020, we are well placed to service the increased demand for local, quality tax, accountancy and advisory services and see many opportunities for growth ahead for our accountants."